Terra Explorer Pro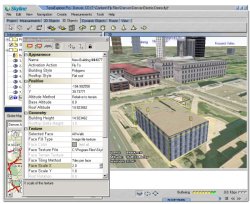 TerraExplorer Pro is a powerful, easy-to-use tool for editing, annotating and publishing photo-realistic interactive 3D environments.
TerraExplorer Pro allows users to shape the digital world in their own image. By editing and annotating geo-referenced 3D models created through TerraBuilder, users can customize the Terra experience to highlight local geographic content. Overlaying local information on to a 3D map can create an exciting interactive application to promote specific features of a region, showing function, relation and proximity along with a distinct view of the area.
All the products in the TerraExplorer Pro family are built on the same technology. The TerraExplorer Viewer provides the basic viewing capabilities. The TerraExplorer Pro GIS Edition adds editing, analyzing and control tools. The TerraDeveloper adds user interface customization capabilities that can be utilized with the TerraExplorer Run Time Pro. The TerraExplorer Pro family also includes a comprehensive set of tools and extensions. All tools, developed using the TerraExplorer Pro API, can be activated by TerraExplorer Pro, TerraExplorer Run Time Pro and, with special license, by the TerraExplorer Viewer
Features :
Efficient streaming for terrain and overlays over networks.
Provides all the tools necessary to create and publish rich, 3D terrain visualizations.
Includes interactive drawing tools to create and add geometric shapes, user-defined objects, buildings, text, bitmaps and animations on a 3D terrain model.
Generates and imports static and dynamic 2D or 3D objects, symbols and geo-referenced information layers.
Loads standard online and offline GIS Layers.
Saves layers to GIS standard file formats.
Communicates with external local and web applications using standard COM interface. Controls all static and dynamic objects, information layers and application content.
Set of tools for measurement and terrain analysis.
Autopilot feature creates pre-defined routes for playback with TerraExplorer.
Controls speed, altitude and viewing angle using any combination of the mouse, keyboard, and Flight Control Panel.
Creates movies, as AVI or a set of frame files, from a recorded flight path.
Takes Snapshots of the 3D Window and saves them to external files.
Hyperlink feature links specific areas, or objects, to Web pages, applications and databases.
Integrates text and Web content messages.
Publishing tool exports scenes to Internet/Intranet users.
Provides improved level of security for local and remote users.