Terra Explorer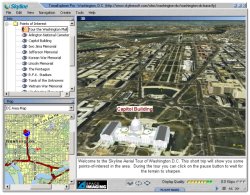 TerraExplorer allows users to freely fly through 3D Terra environments.
TerraExplorer opens the door to the digital planet. Individual PC users can now experience fully interactive terrain viewing previously limited to users of costly 3D visualization systems. With Skyline's TerraExplorer, users can freely navigate over high resolution 3D world environments created with Skyline's Terra products. These photo-realistic, aerial image based terrains can be accessed over the Internet, over an intranet, or via DVD/CD-ROM.
TerraExplorer is able to display highly realistic detailed scenes, from any angle or point of view, and allows extremely close views of an area with excellent clarity. In addition, all the terrain overlay information (such as text, labels, graphics, and 3D objects created or imported by TerraExplorer Pro can be viewed with TerraExplorer. The user can also activate "Hot Links" placed on the terrain to automatically access specific Web Sites, search a database or invoke an external PC application.
TerraExplorer's Internet capability allows users access to 3D terrain visualizations from around the globe, thus creating business opportunities for a variety of commercial and professional uses. The ease-of-use and flexibility of TerraExplorer make it suitable for applications such as live sporting events, real estate, travel and tourism, education, entertainment, commercial planning and tracking, as well as military, aviation and simulation. TerraExplorer brings the digital earth to your home or office.